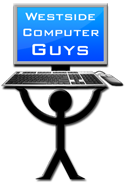 Westside Computer Guys
LA's westside computer specialists, we are local, professional, and very good.
Computer frustrations? Call your personal tech team!
We have 10 years experience in keeping customers satisfied in their software and hardware needs. Let us help you upgrade your computer and migrate your precious data, music and photos. We can assist you in organizing your files and establishing data backup habits before it's too late.
We can recommend online backups and photo sharing services and show you how to set up photo sharing galleries that only your friends can see. Privacy is important in today's world.
One of our specialties is the removal of viruses and spy-ware, and solving slow performance issues. Are your search results hijacked? We can fix that. Do you get annoying pop-ups trying to convince you that you have viruses? That is a virus and we can fix it.
We can get you set up with backup solutions ranging from $10/month online backup all the way up through enterprise-level RAID arrays for the ultimate in small business security. We can assist you with two large backup hard disks for just a few hundred dollars, a small price to pay for the comfort of knowing that a hard disk failure won't be a problem for those that are prepared.
Among our many services are:
Virus, spyware, adware and malware removal
Data backup implementation
Hardware selections of upgrades (special discount available for Dell some items)
Online secure photo sharing
Media organization and connectivity
Web site design and implementation of content management with Drupal