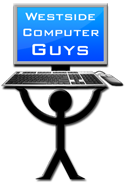 Westside Computer Guys
LA's westside computer specialists, we are local, professional, and very good.
Expertise, Certifications and Company History
We Outgrew Our Original Name
After 10 successful years in business, with an ever-increasing number of repeat clients [150+], the departure of our co-founder to pursue his career and lifestyle dreams in the desert, and the recent addition of two new associates with complementary expertise, we have outgrown original our name. Olsen Packard Solutions is now Westside Computer Guys.
Adam Olsen
I have more than 13 years of experience in the field of information technology. In addition to the individuals and small businesses listed under Clients, I have worked as the MIS Coordinator for Fred Sands Realtors, Director of Information Services for Hugh O'Brian Youth Leadership, and Information Systems Manager for International Medical Corps. I earned my MCSE in August of 2000, MCP ID#1825443, and have successfully completed 8 Microsoft Exams, including the Microsoft® Windows® 2000 Accelerated Exam for MCPs Certified on Microsoft® Windows NT® 4.0.
David Packard and I founded Olsen Packard Solutions in October 2000 because we found we much preferred working with individuals to working for companies. David left the company – and the industry – in late 2004 to pursue his dream of simple living. He and his wife opened a coffee shop and art gallery in Truth Or Consequences, New Mexico.
My clients say they most appreciate the way I demystify computers for them, translating hi-tech terms into people-friendly language. I will remove your computer-related stress, and help you get your computer to do what you want it to. By understanding your computer better, you and your family will enjoy it far more.