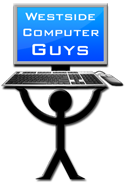 Westside Computer Guys
LA's westside computer specialists, we are local, professional, and very good.
Word On The Street
Referred to "Neighbor 2 Neighbor"
I just wanted to tell you about Adam Olsen.
He is a certified Microsoft Systems Engineer. He lives locally and has been to my home on several occasions to help me with everything from a dead hard drive to instructions on how to make the most of my operating systems.
He's professional, knowledgeable and dependable. He explains everything, and at the same time he listens and asks questions to determine your needs. I highly recommend him.
- Marsha
"Neighbor 2 Neighbor" (we're not listed yet, but hopefully soon)
Your terrific work!!
Hey, Adam!
The Verizon guy, Neal, just left; he was here for an hour, took him most of the time to find the box where the wires come into the house (actually, Alex found it for him!), but once he got his connection everything worked perfectly on both computers, including internet and voice mail. He said he was amazed at the job you did-very very impressed-and told us we were very fortunate to have your services for this project.
The fax will need two lines to be functional (for me..... :-)). so it will be another week before that is functioning. but that can wait.....
Alex and I THANK YOU soooo much for what you did for us and your brilliance, which stunned Neal. He thinks we should remove all the extra lines in Alex's office and under the house, and suggests we use a 'friend', which will cost a lot less than Verizon's hourly charge, I guess.
Adam, we really appreciated your help and really like Julie and Luc. Looks like you got lucky with Julie, as I have with Alexandra!!
Please call for a visit when you next come this way.
- Be well, Stefan